In 2023 the Aerospace Division highlighted 19 authors presenting their research in the Aerospace Division sessions.  Sessions were held in the following areas. Copies of the papers are available for free at asee.org.
Rocketry and Space Education
Innovative Pedagogy and Hands-on Learning
New Technologies and Strategic Applications
Student Success
The division also held a panel discussion on "Future of Aerospace Education: Needs, Opportunities, Challenges, and Tools", with the following speakers:
Dr. Michael C. Hatfield, University of Alaska Fairbanks
Dr. M. Javed Khan, Tuskegee University
Dr, Michael S. Warner, Air Force Sustainment Center
Prof. Mary E. Johnson, Purdue University
The division also held a topical plenary, "Engineering Education from the Perspective of Customers in the Government & Military", with speaker Dr. Michael S. Warner.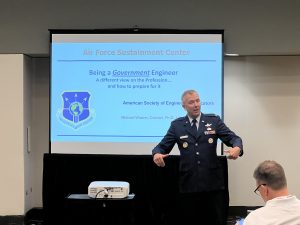 At the division business meeting, three awards were presented.
Superior Student Paper Award
Winner: Shantanu Gupta
Paper: An Investigation of the Effect of Number of Hot Spots on Taxi Time at U.S. Hub Airports
Young Investigator Award
Winner: Dr. Brian D. Ritchie
Paper: Assessment of a Distributed Implementation of the Entrepreneurial Mindset in an Experimental Projects Capstone