ASEE 127th Annual Conference & Exposition
Montreal, Quebec, Canada
June 20-24, 2020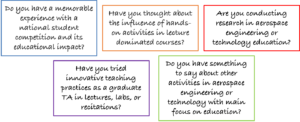 If you answered YES to any of these questions, then the Aerospace Division (AERO) invites you to tell us about it in a student-authored paper in all areas related to aerospace engineering and technology education.  Turn your thoughts and observations into reality!  Help shape the future of how engineering or technology is perceived and taught!
Student Paper Attributes
AUTHORS: Work is mainly conducted by undergraduate/graduate student(s) in collaboration with a faculty advisor. The final manuscript of each accepted paper will list a student as the lead author and faculty advisor as a co-author. Each student presenter must register for the annual conference.
FOCUS: Paper has a significant educational component.
AWARDS: Only the papers presented by the student authors / co-authors are eligible for student paper awards. Up to three student papers will be recognized by both cash awards and certificates.
Review Process
An approximately 500-word abstract must be submitted electronically through the ASEE paper submission system by the deadline of October 14, 2019. Please write "Student Paper" on top and do not list the names and affiliations of the authors. If accepted, a full paper draft must be submitted by the deadline of February 3, 2020.
Note: If the paper is a "Work-in-Progress", please include that in the title.
Important Dates:
Abstract Submission: Open – September 3, 2019
Abstract Submission: Due – October 14, 2019
Draft Paper Due – February 3, 2020
Revised Paper Due – March 16, 2020
More info: https://www.asee.org/annual-conference/2020
Contact AERO Program Chair: Dr. Nadir Yilmaz, Department of Mechanical Engineering, Howard University, by email: nadir.yilmaz@howard.edu